As your business grows, you may need to add more users who would help you manage your business better.
This could access to a user who manages customer service as such needs access to the master list of all users (learners) in the site, access to view which courses the user has signed up for, payment status, block or to enable course access by changing course expiry, check learner information such as email IDs, phone number, course purchase date, last login, ID creation date, course view %, and the assessment status. It could also be for accounting purposes such as to track sales amounts, GST invoices, learner invoices and payout details.
This article will show you how to add or delete such users for accounting and/ or customer service roles. Simply follow the steps listed below to provide access
Adding a role for Accounting or Customer Service

This feature can be used to provide access to your team members basis their role in accounting and/or customer service.
Log in to access the dashboard
Click on 'Identity & Access'
Add the user's name, Email ID and password
Under 'Accounting and Customer Service access on publisher dashboard', select the appropriate accesses
Click on 'Send an invitation mail to create a new password'
Click 'Add User' to save changes
Once done, the user will get an email confirmation with a button that when clicked redirects the user to the login page for accessing the respective sections in the dashboard.
User's View
Once the access is given the user will be able to log in and view the pages available for access. The video below shows the example of the view for a user with Customer Service role based access.
Deleting A User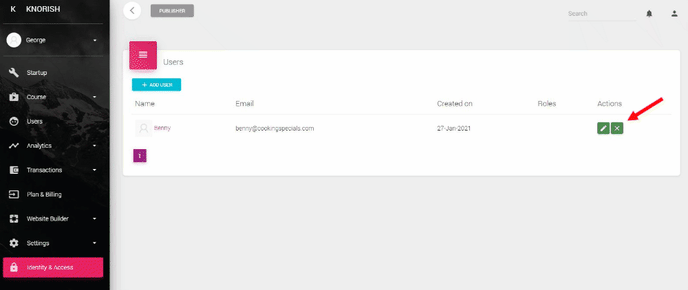 Deleting a user is fairly straight forward.
Simply click on the X button next to the name of the user.
Confirm your selection by clicking on 'Yes, Delete It'
The user will be deleted and the access will be removed from the site.