Knorish has two main account types i.e. Publisher & Enterprise Accounts with three plans each i.e. Free, Professional and Power. Each plan has its own list of features based on which publishers can decide which plan to use.
Primarily, there are three plans:
Trial
Startup
Professional
Power
Yearly Vs Monthly Billing
All paid plans come with the option of being billed monthly or annually. You can change your plan at any time from monthly to annually or vice versa under the Plan & billing section in the side panel in Dashboard.

Renew or Upgrade Your Plan
For an in-depth information on the different features each plan offers, do take a look at the Publisher Plans Pricing & Features Comparison Chart and the Enterprise Plan Pricing & Features Comparison Chart.
The Primary Owner of the Knorish School can change the plan at anytime. To do so, go to
Dashboard > Plan & Billing
. The Active Plan Section indicates the plan your school is currently under. The Expiry date is when your current plan will expire and you would may need to pay to renew the account. This does not apply to Free Plans however, Free plan users would still need to renew the account post expiry date.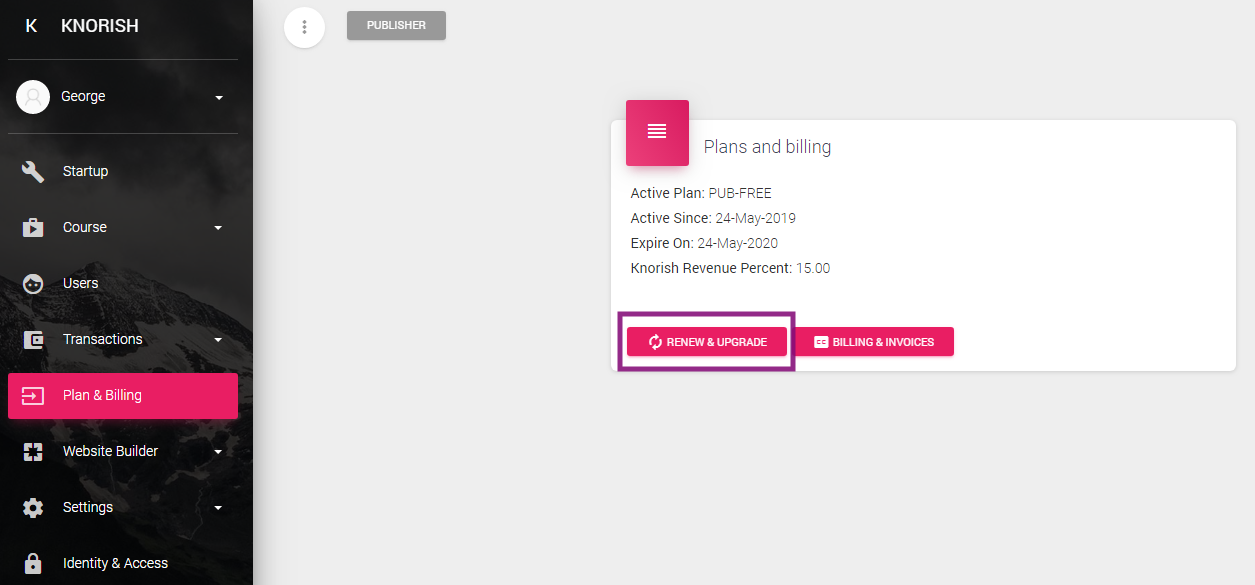 Once you click on
Renew & Upgrade,
you would be required to select the plan that best fits your needs and upgrade. All Prices are listed in listed US Dollars. In case the account has been created in India, the pricing would be listed in rupees. Once you click on upgrade, the next screen would require you to choose the yearly billing or the monthly billing option.

You can choose to make the payment via PayPal as well. Additionally, if you have already have any earnings from your existing course sales, you can use that option as well here. Simply select the 'Pay from earning' option which will also show the amount accrued so far next to the option.
If you have any valid discount coupons, please enter the coupon number/code in the coupon code section to use it. You can only use one coupon code per billing instance. Once you are ready to pay, simply click on the 'Pay' button to proceed further.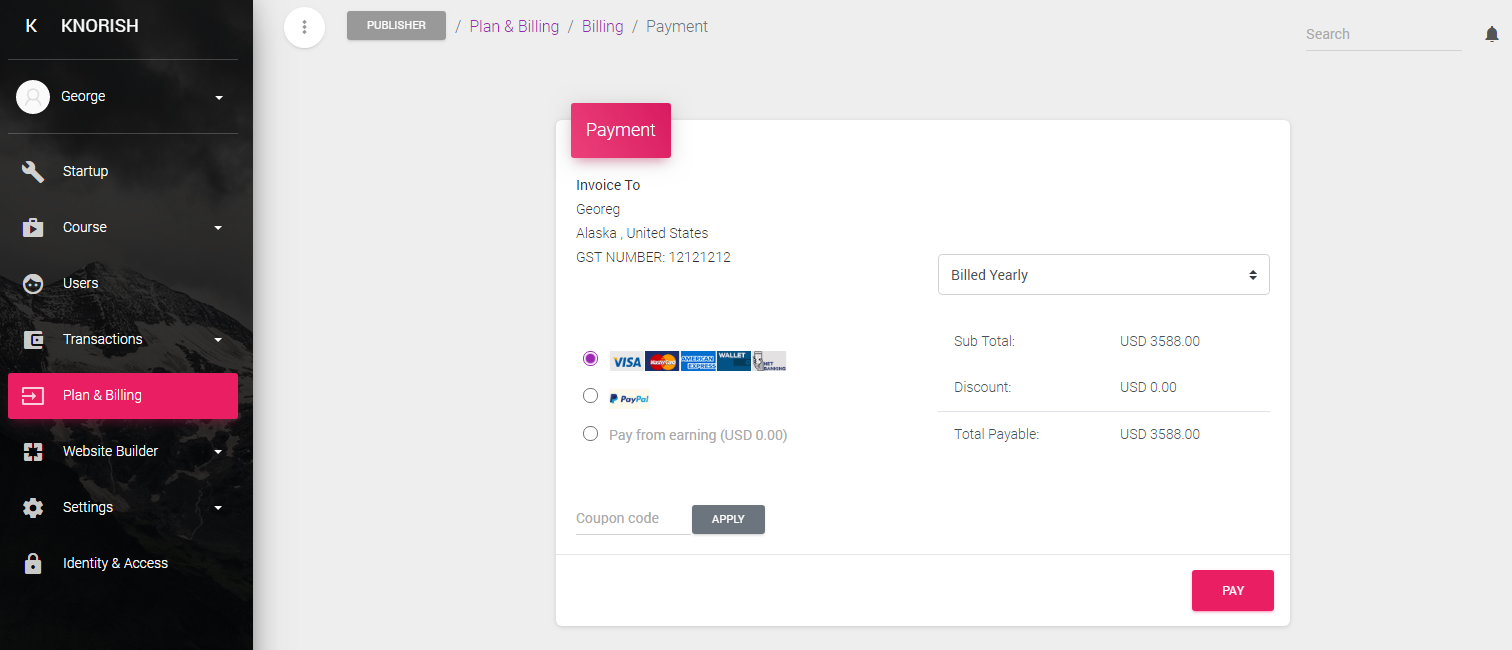 Once the payment is confirmed, you get the success notification and the plan would be upgraded accordingly. This can also be confirmed under Plan & Billing, Active Plan would have the plan information updated.
Downgrade Your Plan
Currently, an option to downgrade your plan does not exist on the platform. As of now, you can only upgrade to a professional or a power plan. Please reach out to us in case you need any support in this regard.
Email: support@knorish.com
Raise A Ticket: Ticket