This article goes over the basic steps on how to connect your custom domain to the https://YOURSITE.knorish.com site created on Knorish.
IMP NOTE: Please do not create a new account with cloudflare first. Simply, follow the steps below to ensure a seamless integration. This FAQ also covers the steps on what to do if you already have a cloudflare account.
What Are SSL Certificates and why do you need it?
Simply put, by using the steps listed below, your website then becomes more secured.

Why Cloudflare?
Cloudflare is a web hosting and domain security enabler. Basically, it adds a layer of security, caching and a free SSL on your domain, connecting https://YOURSITE.knorish.com site to https://yoursite.com. The process of connection is also super simple, as once you follow the steps listed below, Knorish will create and setup everything for you.
Website Domain
Purchase a domain from a domain registrars such as GoDaddy etc., or if you have one already, then you can connect your existing domain.
To learn how to purchase a domain, read here: How to buy a domain name in 3 steps on GoDaddy
Note: It's not mandatory that you buy the domain from GoDaddy only. You can choose any domain registrar of your choice to make the purchase.
Connect your domain with your Knorish Site
To connect your domain to the Knorish site, login to your Knorish account and access the Dashboard. Under Dashboard, access Integrations, available under Settings.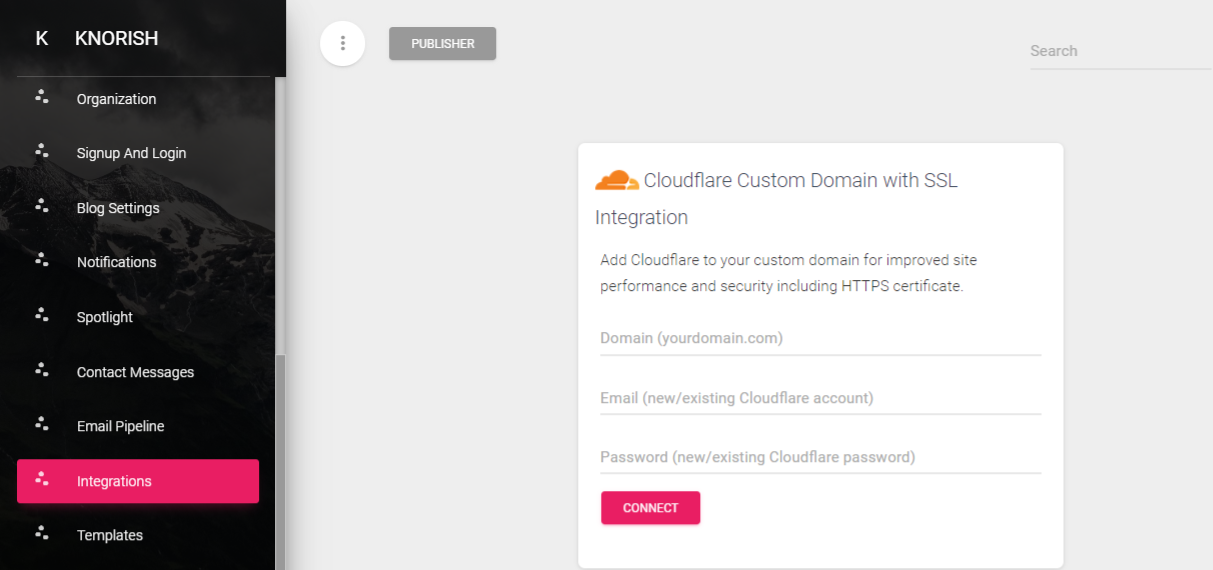 Here, simply enter the Domain name, Email ID and the Password that you would like to use for the Cloudflare account. Once you enter the details, the platform will create and setup the account for you.
IMP TIP: In case you already have a Cloudflare account, simply add the email ID and the password of the existing account here. The platform will add the necessary information in your current account.
Once the process is complete, you will get a confirmation 'Success' Message and the section would reflect new information with the button 'Disconnect' as shown below.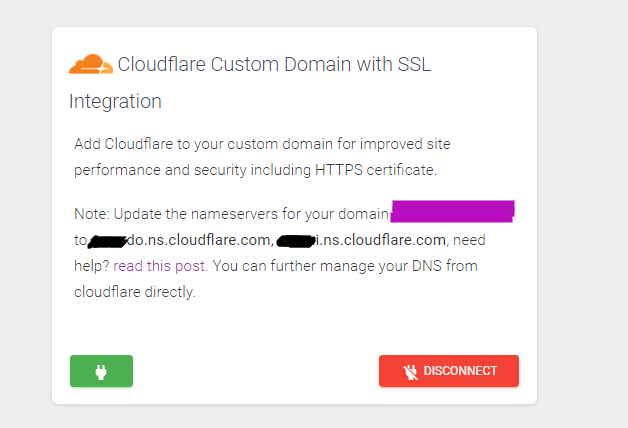 Here, you would see the name of the domain listed. As the instructions list, copy the two Name Servers listed in the message (_____.ns.cloudflare.com). You would need to paste these name servers on GoDaddy or the other domain control panel.
Note: You may also receive an email from Cloudflare which will share these details and the current status as well. Here's a sample of the email: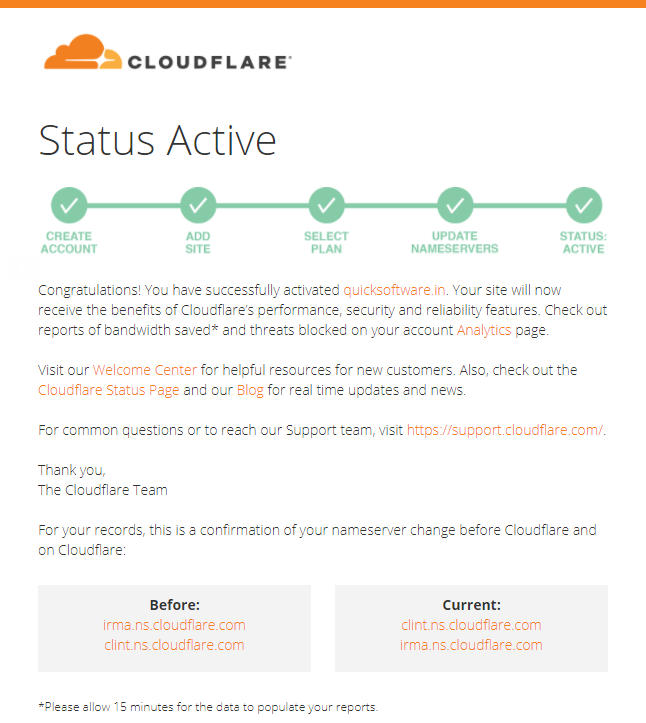 Finally, add the name servers on the domain registrar website. Here's how you can do that on GoDaddy: Change nameservers for my domains
Once you have added the name servers on domain registrar website, you need to wait for a maximum of 24 hours to see the custom domain connected with free SSL certificate. In case, it does not happen within the next 24 hours, please follow the below listed trouble shooting steps.
Troubleshooting
If you are not able to access your Knorish website from your custom domain (after 24 hours wait) then login to Cloudflare dashboard.
Check #1
Check that these two CNAME are preset on the DNS page, here's a sample.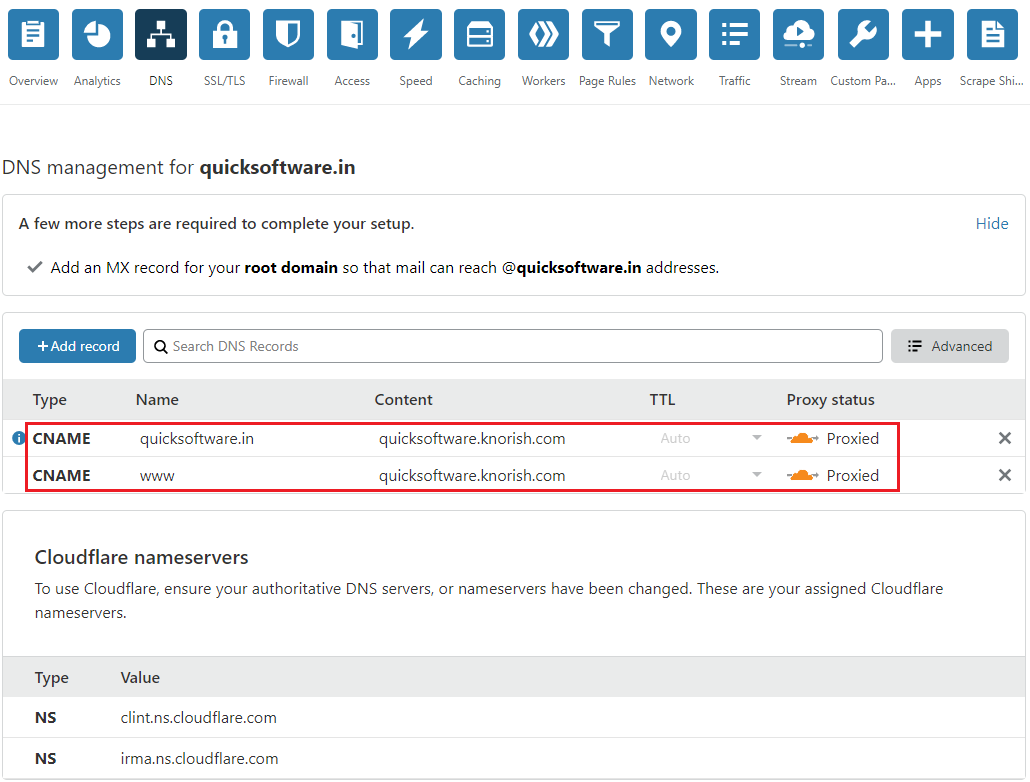 Check #2
Check that SSL certificate is issued and set to "Full".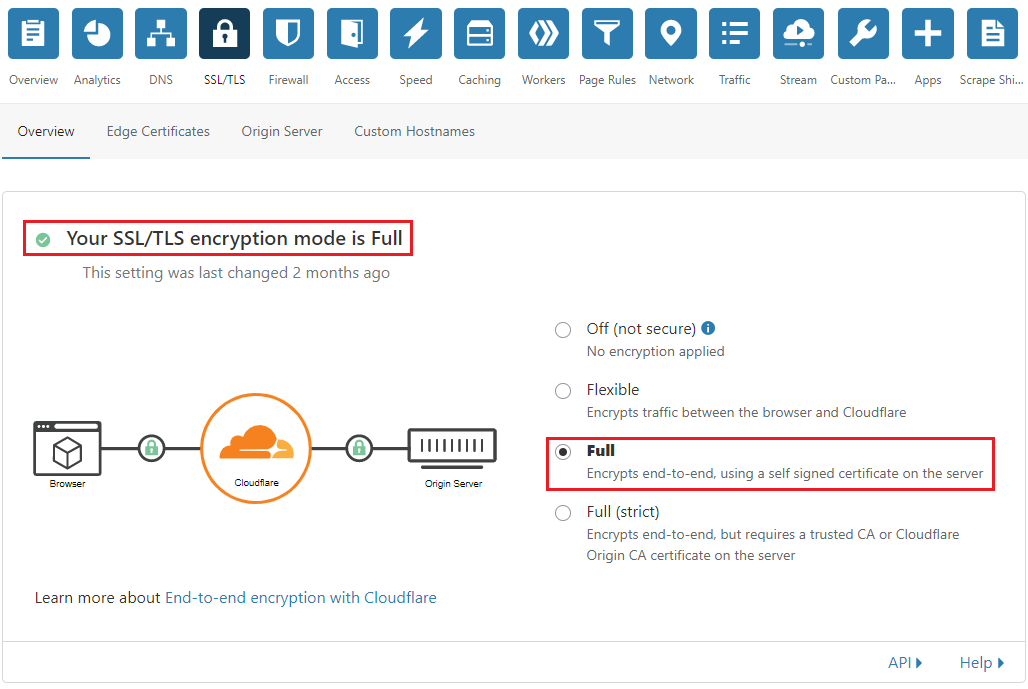 Check #3
If you receiving below error, follow below guidelines to resolve this.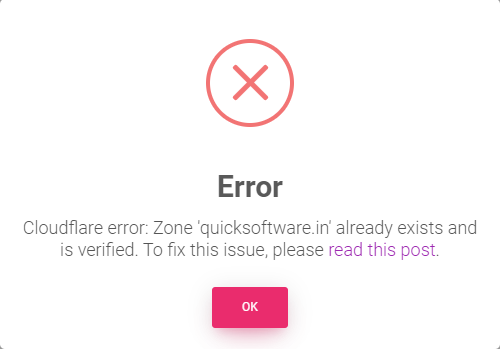 This error occurs when domain is already added and verified on Cloudflare (same account or other account) and trying to add domain again.
If domain is added on same account: Log in to Cloudflare account and delete the domain. To remember to backup your DNS records before you delete them, just in case if you may require them in the future.
If the domain is already added on other account: To resolve this issue, log into Cloudflare account and then manually add your domain quicksoftware.in and then change NS records on the domain registrar where your domain is registered. Once the NS are changed and Cloudflare has recognized it, delete that domain from Cloudflare. With this, quicksoftware.in does not exist now nor will remain verified on Cloudflare system.
You can now try to connect the domain again on Knorish.