On enterprise accounts, creators can easily add and import students' information on their Knorish site. You can add students information in two ways:
Add single user (can be a team member or a learner)
Add multiple users


Watch this video below to learn how to create/ import students IDs:
Basic steps to follow for both cases
To add and update the students' information on your account follow the steps listed below:

Login to your account, and access the Enterprise section of your account as shown in the image above.
Then click on the 'Users' section on the dashboard to access the section.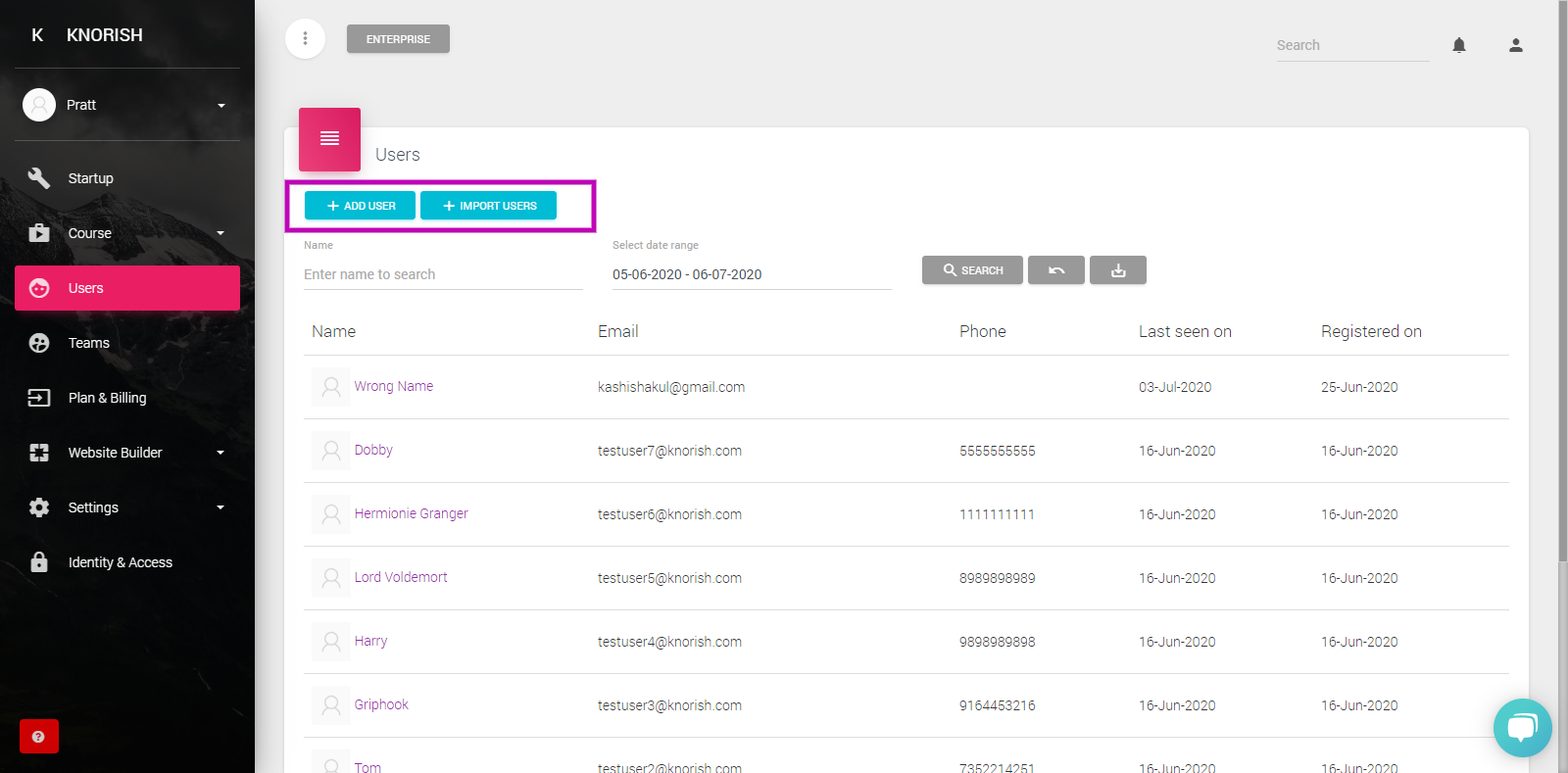 Here in the user menu, you can see 2 buttons as highlighted in the image above.
Add User - helps in adding one single user to the platform
Import Users - helps in adding multiple users in the platform
Adding a single user
Click on the "+Add User" button which will open a new page
In this new page, you can add details for the user as highlighted in the image above. Post adding the details for the learner, you can choose from 3 actions namely:
Do not assign - only the information will be added
Assign a course - can enable you to assign this learner a course
Assign to team - if adding information for a team member use this option
After selecting the desired option post filling in the details, the information will be added after clicking the Add and Invite User button.
Adding multiple users
On the Users menu click on "+Import Users"
In this page, you will be able to see the number of users you can add to your course academy. If the need arises, you can upgrade your plan on Knorish as well. To ease creators in adding multiple users, we have provided a template that you can download to add learners' information. This template can be edited by adding the required details.
After the details have been added, click on Select CSV File button as highlighted in the image above, to add the file with learners details
Post uploading, a new page will open 'Map CSV file columns'. Here select how the data will be displayed in accordance with the CSV file you just uploaded. You can select the order by clicking on the dropdown button.
After the order has been set click on 'Display User'
Now in this new page 'Users from CSV file', you can assign these users a course, assign them to teams. You may even choose not to assign them anything by selecting the 'Do not assign' option.
Now select the course or the team the user needs to be added. Further, click on the 'Import and Invite Users' button. This will add the details to your accounts database and send them the invitation invite and an SMS, to begin with.
With this, you will complete the addition of learners' details to your course academy on Knorish and will be able to assign courses accordingly.