This article shows how to get the payouts processed, update bank account information, and set up auto payouts as well.
Payouts can be requested as per the payout cycle applicable to your current Knorish plan. Basis of your current knorish plan, you can request a payout manually or set up automatic payouts as well.

Note: Creators will be able to process payout request only if the minimum threshold is met.
Updating Bank Account Information for Payouts
To update the bank account information, please follow the steps given below: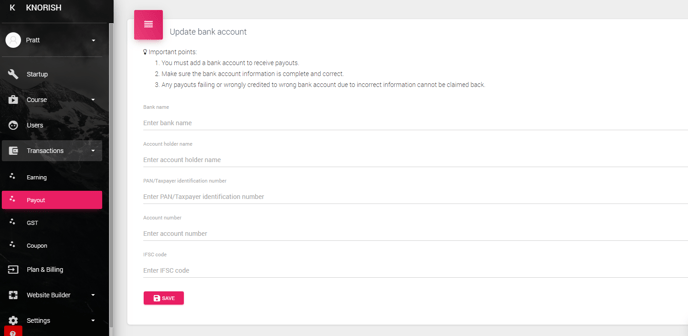 Log in to your Knorish account
Under Transactions, click on Payout
Scroll down to 'Update bank account'. Add your bank account information

Bank Name
Account Holder's Name
PAN/Taxpayer identification number
Account number
IFSC code
Once added, please click on Save to complete the process.
IMP: Please ensure to verify the information before updating the information. Knorish will not be responsible for any payouts failing or wrongly credited to another bank account due to incorrect information being updated here. Neither will we be able to reverse the transaction.
Get a Payout from your account
To get the payout processed from your account, follow the steps below: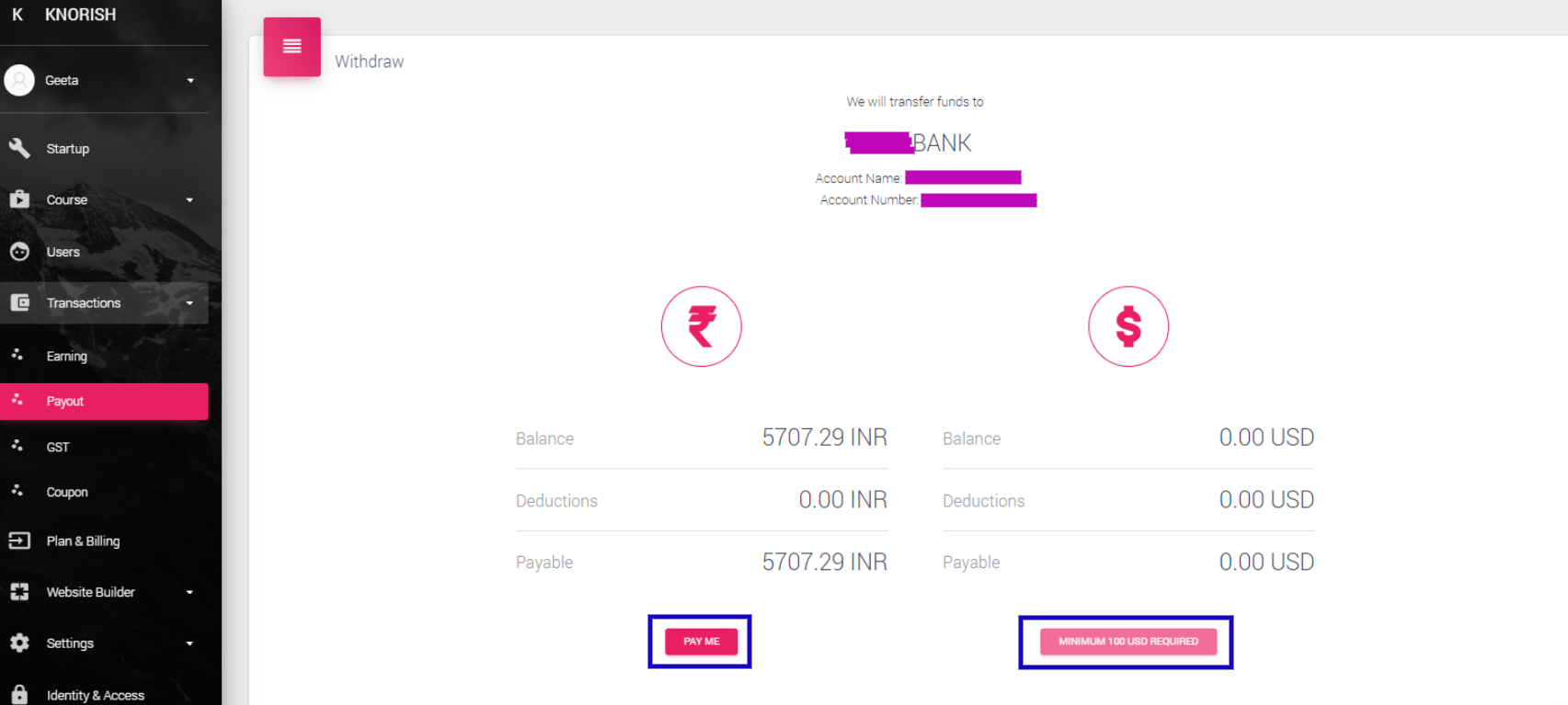 Update Bank account information as shown above.
Under Payout, scroll down to the Payouts section.
Click on 'Pay Me' to get the payment processed.
Payout Processing Timelines
Please note that while the platform initiates the payout request instantly, it can take up to 48 - 72 hours from the initiation for the payment to reflect in the bank account listed on the site.
Note: Once the first payout request is done, please get in touch with the support team at support@knorish.com as the first payout may need to be manually processed. This is only for the first payout request. Post which, you will be able to initiate payout requests smoothly from your end.
Setting up Auto Payouts

Creators can also set up auto payouts on their account on Knorish. This can be done to enable automatic payments directly to a bank account of your choice.
For the platform to automatically initiate the payment, the minimum threshold should have been reached.
Note: This process is for creators who are using the knorish custom payment gateways. In case you have connected your own payment gateways, this option will not be visible as the amount is being routed via your payment gateway.

To enable auto payout functionality on Knorish: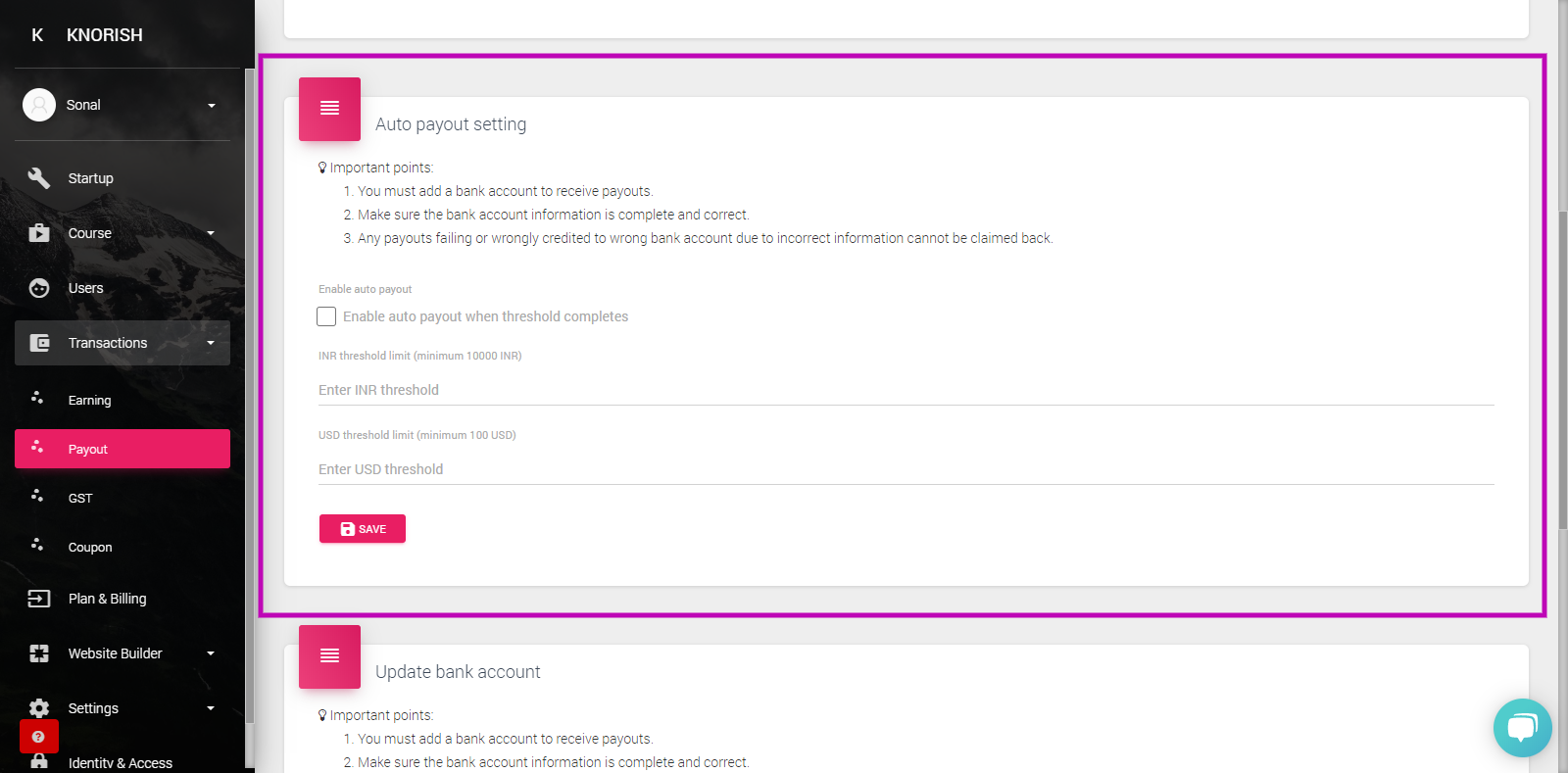 Login to your account on Knorish
Under Transactions, access the payouts section.
Scroll down to the 'Auto payout setting' column.
Turn on the auto payout functionality.
Enter the amount for the threshold

in Rupees and/or US Dollars. This should be equal to or more than the minimum threshold.

After setting up the threshold, click on the 'Save' button to confirm enabling auto payout functionality on your account in Knorish.
Note: It is the responsibility of the creator to enter correct bank account details in their accounts on Knorish. Knorish doesn't take any responsibility in case payouts are failing or wrongly credited to a wrong bank account due to incorrect information. Such payments cannot be claimed back or reversed.