Knorish gives you the flexibility of renewing your existing paid plan or upgrading it to a higher plan anytime you want. You can even set up Autopay on your account which will lead to the renewal amount being charged automatically on your card. Though we send out timely reminders about your account's expiry, setting up auto-renewals helps ensure a continuous and seamless experience for your students.

Here's how you can renew/ upgrade and set up auto-renewal on your plan:

Renewing or upgrading your Knorish Subscription

Login to your account & access the dashboard
On your dashboard, hover to the left toolbar and click "Plan & Billing"
Once you are on the new page, hover over to the "Renew & Upgrade" button.
On the new page, you can select the plan you want.
You can choose to renew your existing plan or upgrade to a higher plan if you wish to avail more features and benefits from Knorish
Once you confirm the plan, you will be directed to the payment page
Payment options available

Autopay
Credit/ Debit Card
Netbanking/ UPI
PayPal
Knorish Earning
Autopay based subscription payments are supported on participating Visa and Mastercard credit cards. Enter the card details including the number, expiry date, full name on the card and the CVV number.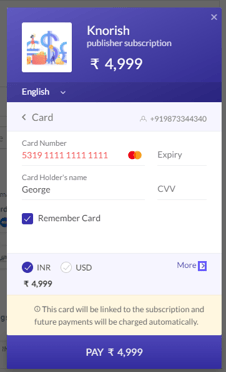 When entering the information, the gateway would automatically show the amount in the currencies activated on the credit/ debit card.
Important Considerations: In case of autopay, your earnings amount should have the whole amount required. Partial payments cannot be processed.

For more information or any assistance, please reach out to our Customer Success Team here.