This article goes over how Knorish online store owners, and course and content sellers (also known as publishers, creators, and online course) deal with Taxes in India with respect to revenue generated from Knorish course sales.
Imp Note: Any sales price listed on your Knorish online store is automatically considered to be inclusive of all taxes applicable.
plus, GST Invoices are raised for the transaction fees that are charged by the pre-configured payment gateways provided by Knorish. It is not applicable for the accounts that use their own custom payment gateways.

Tax liabilities vary depending on the sources of income that exist currently for you or your enterprise, laws applicable in India or the country you are operating from, and several other such factors. As such, all tax liability based on sales generated via Knorish online stores would have to be paid directly by the online store owner. As mentioned above, taxes are considered to be included in the price listed.
Points to be kept in mind: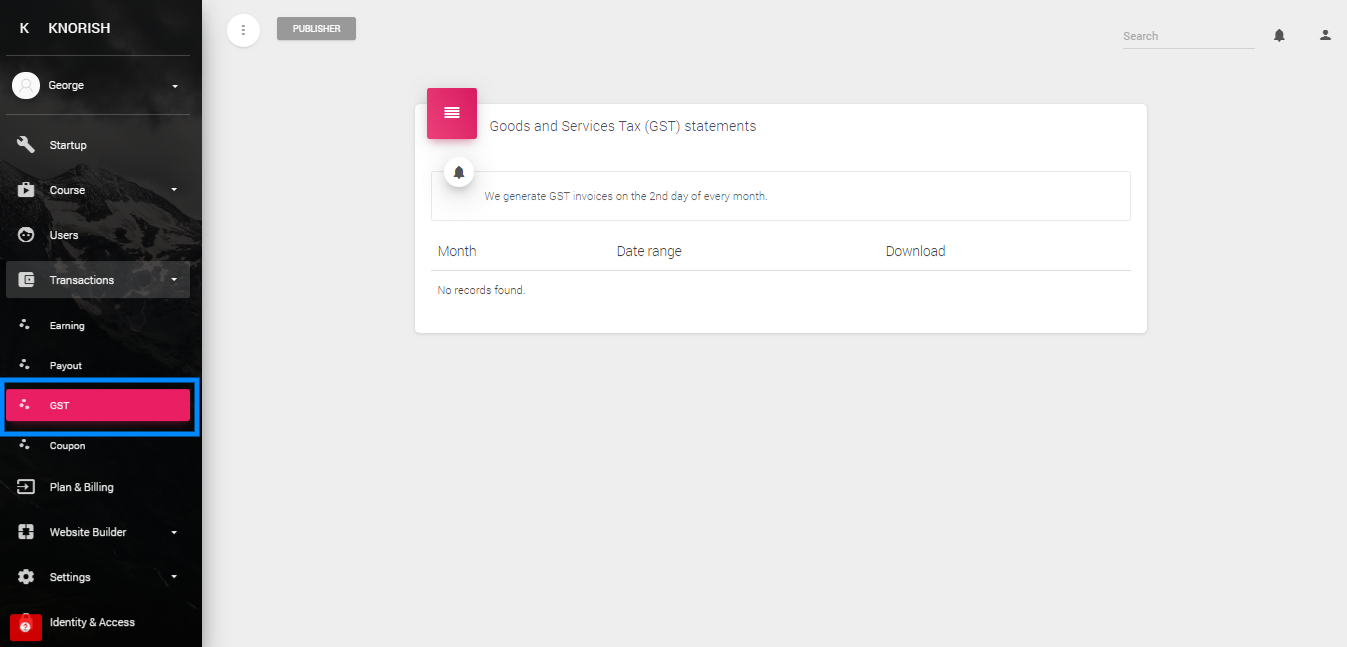 GST Invoices are available under the Transactions section in the publisher dashboard as shown below. All GST invoices are generated on the 2nd day of each month automatically. These can be downloaded from the GST Section.
Our experts have no insights into your tax liabilities as an individual, business, enterprise, or any other. As such, we would not be able to comment or support any queries regarding taxation, liabilities, etc. besides the GST invoices that would be generated on the second of each month as stated above.
You can also check if your online courses or the online academy qualify for any government schemes that exempt certain institutions from taxes.
For example, if a course was sold for INR 100. The transaction fee applicable would be charged by the configured payment gateway. As such, the GST Invoice that will be generated on the 2nd of each month will be for the GST applicable on the cumulative transaction fees charged.
In case a custom gateway is used, then the GST invoices would be provided by your gateway service provider. Knorish will still continue to offer the GST invoices for your subscription with Knorish.