This article will help you understand your earning dashboard on your Knorish Academy & all the tools available for you to analyse your reports, section by section.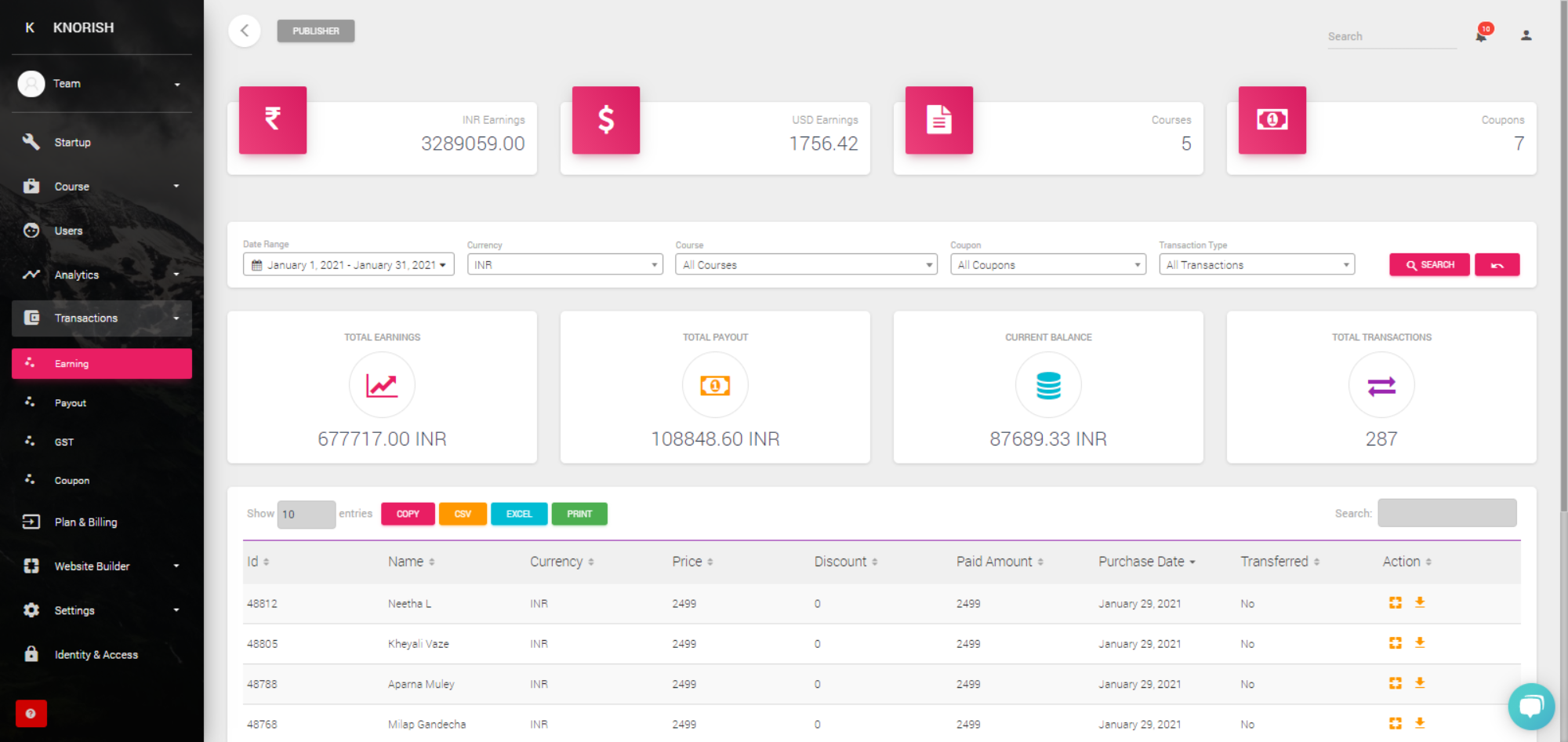 Available under Transactions, the earning dashboard is where course creators can view their sales history for all the courses purchased, which can be segregated & broken down into further sections for a detailed analysis.



The first section gives you an all-time summary of the earnings from your online academy including:
Total INR earnings
Total USD earnings
Total courses live on the academy
Total coupons issued by you
Viewing detailed & specific summaries


This section helps you do a detailed analysis of your earnings & selling history so far. You can further breakdown the overview by filtering out your choice of data
Date range: Can help you view sales history basis the range selected. Options available -Today, Yesterday, Past 7 Days, Past 1 month, Current month, All time, & a custom date range.
Currency: Choose from INR or USD to view your international/ domestic earnings.
Courses: Select this drop-down to view earnings for a specific course. Keep it de-selected to view aggregate earnings from all courses.
Coupons: Here you can filter out the various coupons you have issued for your courses and view course purchases basis the coupons used.
Transaction type: You can filter from 'Free' & 'Paid' transactions to view a detailed report of the number of courses you've sold for free & for an amount.
Note: Make sure to click on 'Search' after you choose a filter option, & if you wish to reset all the filters you can select the 'Reverse Arrow' on the right hand of the search button
Extracting reports



In this section, you can extract the reports up to 100 entries at a time.
Click on the relative format button you choose to extract your reports from & your file will automatically start downloading. Available formats - CSV, excel, print, or you can copy the data as well by clicking on Copy
Details in the extracted reports will include
Order ID
Learner's name
Currency the course was sold in
Course price
Discount amount applied
Final amount paid
Applicable transaction fees if any
Purchase Date, and
Buyer's details applicable as per GST based invoices if input credit claim invoices are turned on.