Knorish Communities are an effective way to engage with experts at Knorish and like-minded people from different professional backgrounds in meaningful conversations. There are 3 Communities that are active on Knorish so far each with a specific purpose.
Open Communities for aspiring creators
Paid Users' Community
How do they work?
Each community has its dedicated page and is round-the-clock monitored. Members have been communicated the healthy & best practices as follows:
Group Rules From Admins for Knorish Online Course Creators Communities
Be kind & respectful to others
Let's be supportive & of each other while together we build a positive, welcoming, and charged entrepreneurial environment where everyone feels inspired to share ideas, thoughts, and feedback.
Stay focussed on the task
Your focus is to grow, expand and be so good at it that no one else is able to replace your commitment to excellence and core values.
Use Knorish Knowledge Base for checking out functionality or "how-to" questions:
https://knowledge.knorish.com/ Also, as the content-based grows within the community you're encouraged to use the search function to find if the related content pre-exists.
Utilize Knorish Support Channels
If you need any technical or customer support, reach out to our support team at https://knorish.com/contact/ instead of community.
We are open & available to know how we can improve our services and products. We recommend that you reach out to us directly for any feedback or raise a ticket at https://knowledge.knorish.com/kb-tickets/new
Don't promote other similar course platforms
This community is run by Knorish, exclusively for the paid members. There is a zero-tolerance policy for promoting any other online course platforms in this community.
Don't spam or post irrelevant messages
Never post comments, or DM members content that doesn't relate to using Knorish, course creation, marketing, and sales for promoting online course business, or online learning, in general.
Don't post any unsolicited promotional content
Never post comments or DM the community members irrelevant content with a CTA with the purpose of sales/lead generation for a service/product without the nod of the platform. Admins will delete those posts most certainly.
Trolling is simply not allowed
Any inappropriate, rude, explicit, or aggressive post, a comment meant to upset the majority of community members is banned.
Open Access
Knorish Creators Open Community - Facebook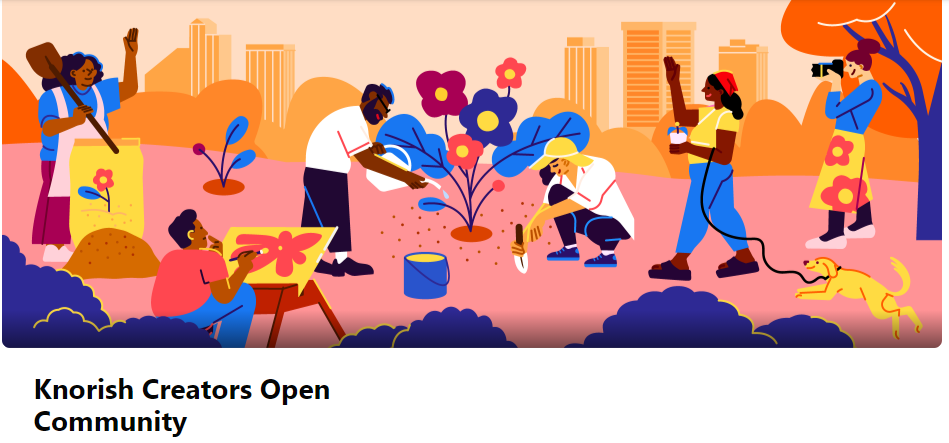 This community is actively engaged on Facebook & growing stronger day by day. It's open to all individuals who are seeking out to discover their passion & purpose on entrepreneurial fronts.
Find like-minded creators who wish to take their expertise online
Build a successful business
Help thousands learn a new skill and learn from your expertise, etc
Here's the link to join Knorish Creators Open Community.
Note: This is an open community for all aspiring creators. For more focussed access to insights for success from subscribed creators who are currently using Knorish, visit Knorish Official Subscribers Community
LinkedIn Course Creators & Marketers - For Digital Coaches and Entrepreneurs



This LinkedIn Community is a hub for both seasoned & beginner course creators & marketers who aspire to excel in their respective fields and build thriving six-figure digital businesses with Knorish.
Here's the link to join LinkedIn Course Creators & Marketers - For Digital Coaches and Entrepreneurs.
Paid Users Communities
Knorish Official Subscribers Community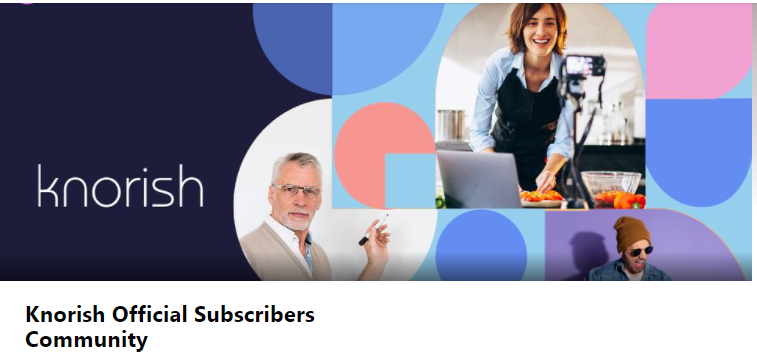 An invite-only closed group community space specially created only for our paid members on Facebook to share their knowledge, experience, and best practices of using Knorish and helping each other do better in their business.
Plus our team of community managers is also available to ensure every member engages within the community in the right spirit.
The goal is to help you discover your impact ambition
Learn from and share your experiences with other paid course creators
Get access to better insights and best practices from others who share your vision and ambition
Here's the link to join the Knorish Official Subscribers Community.
Note: Access is only granted to users who are current subscribers of the platform.