This article shows how to use the Course Publish Page to enhance the user experience with course completion certificates, pricing your courses, and much more.
Overview
By default, the course settings page is assigned to each course that you create on Knorish. Under course settings, you can update:
Course Thumbnail Image
Course Name
Language
Reader Level
Pricing - INR/USD
Visible to Public
Featured Course
Course Categories
Course Expiry
Certificate Download
Checkout Redirect
Enable Chat
Limit Course Sales
Finally, you can also Publish the Course once all the above-listed elements are completed. So let's take a quick look at how to do this:
Accessing Course Settings
Access Course List under 'courses' in the dashboard of your Knorish Account. Then click on the 3rd green color spanner icon (named Builder) to open the course and then click on Publish.

Under the course details page, click on settings to access the course settings page.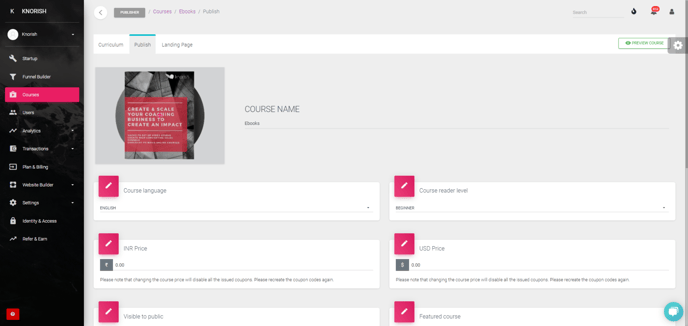 This is where you can update the settings for the course.
Course Image: Change the image for your course, click on the + sign and select a suitable image from your PC/Desktop/laptop. Image is fixed crop in defined ratio,like 6:4 i.e. 6mm x 4mm In code it is data-width="400" data-height="300"
Course Name: Update or change your course name in this section
Course Language: Choose the course language from the multiple languages in the list.
Course Reader Level: Set the reading level based on the course content as Beginner, Elementary, Intermediate, Upper-Intermediate, Advanced.
INR Price: One key benefit with Knorish Platform is that depending upon the user's location the pricing can be shown automatically in INR or in USD. To set the price in INR simply type in the INR Value.
USD Price: Additionally, do mention the price in USD as well to ensure that your course pricing is visible to international users in USD for ease of payment.
Visible To Public: If you turn this option off, the course will not be visible in the featured course list or in the course library.
Featured Course: Use this feature to make the course available on the Page Builder to be used in the featured course list.
Course Categories: In case you have multiple courses, bifurcating them into categories would be a great idea. This feature lets you do just that. Categorizing courses will display the courses category-wise on the course library
Set Course Expiry in Days: If you wish, you could also set up an expiry date for your course. In case you don't wish to set a course expiry date, enter the Value as 0.
Certificate Download: Set the certificate download option to on or off. If you turn this option off, this course will not provide certificate download to users.
Checkout redirect: A great feature that ensures the course learners can start viewing your course immediately post completion of the purchase i.e.the course starts playing automatically post successful payment.
Enable chat: If you turn this OFF, learner chat will be disabled for this course.
Limit Course Sales: This will restrict the course sales and will allow only the mentioned number of participants in the course, please click to learn more here.
Publish Course: Once all the above listed are complete, click on 'Publish Course' to take your online course live.
Important Considerations On Course Pricing
If INR price is greater than 0 and USD price is 0 => INR will be visible everywhere
If USD price is greater than 0 and INR price is 0 => USD will be visible everywhere
If INR price is greater than 0 and USD price is greater than 0 => We check the user's IP address. If the IP address is outside India, we display USD. If the IP address is inside India, we display INR.
If you are using both currencies, it is recommended to use INR and USD when you are designing or customizing the landing page.
If the INR price is 0 and the USD price is 0 => Course will become free. There is not any currency conversion involved, whatever price is set, the same is displayed on the checkout page.