GST invoices for GST chargeable on the transaction fees charged per course sale are automatically generated on the 2nd of each month for all transactions in the prior month.
All course prices listed on your academy built with Knorish are understood to be inclusive of GST and/or any other applicable taxes. In case your course is free, no transactional fee is levied, and as such GST invoices are not issued for free courses.

Please note that Knorish has no control over the pricing you decide for your courses and as such when you set the pricing for your courses or content, you agree to be responsible for the applicable tax liability.
The platform would issue GST invoices only for the applicable GST on the transaction fees charged by the platform. This is only applicable for creators that use Knorish enabled payment gateways.
For example: In one month, if your academy sold a course for $10 (~INR 700) to a student, the GST applicable on the transaction fees charged by Knorish will be listed on the GST invoice.
In case you integrated a custom payment gateway to collect payments for your courses, please reach out to the service provider for the GST Invoices on those transaction fees.
How to enable GST Invoices
To ensure the timely generation of the GST Invoices, subscribers must ensure that the requisite details have been listed in the platform. Please follow the steps listed below to add or edit your organizations GST details:
Login to your Knorish account and access 'Settings' in the dashboard,
Click on the first option i.e. "Organization",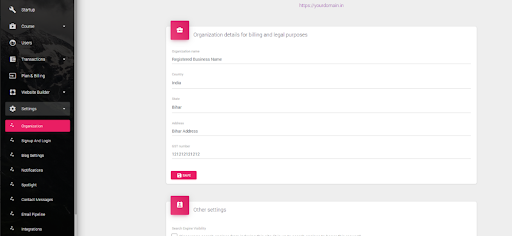 Complete the details about the organization including the GST information. Once done, click on Save to complete the setup.
How to access GST invoices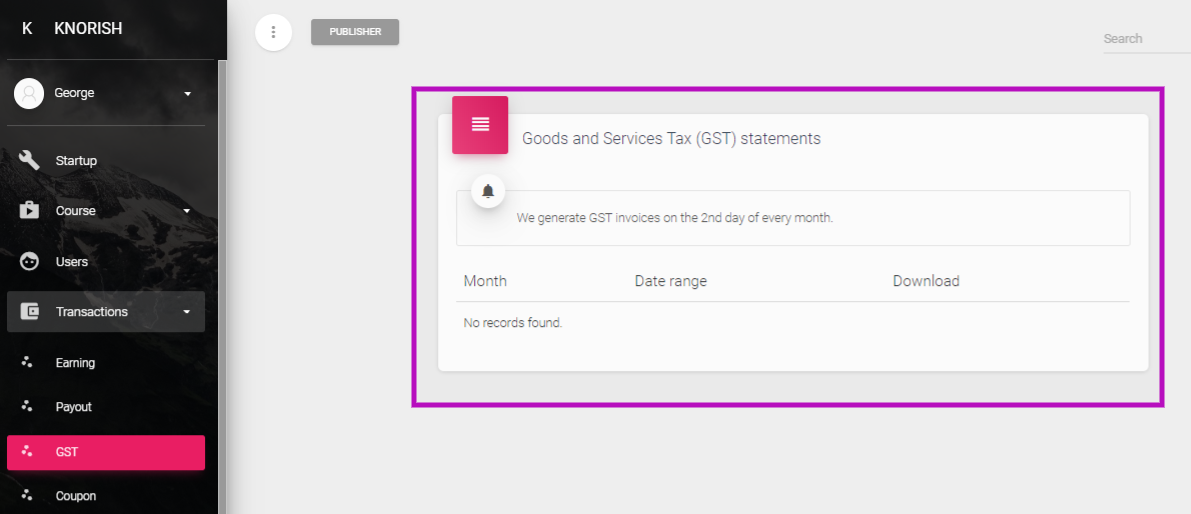 Steps to follow to access GST Invoices:
Access 'Transactions' in the dashboard and click on 'GST'.
Here you will find the monthly GST invoices issued automatically on the 2nd of each month. From this page, you can download your GST Invoices as required.