SEO is a task made easy with Knorish. To enable Google to crawl through your course website it is crucial to make sure that the site is indexed on google and that the search engine is not set to discourage indexing your course website.

To check whether the site is getting indexed, follow the steps given below:

Head to the 'Organization' menu within 'Settings' after you have logged into your account on Knorish.
Scroll down on this new page to the 'Other settings' section.
Leave the option 'Unchecked' option to enable or continue indeing your site
After unchecking the toggle click on Save to enable indexing to your web pages thereby enabling SEO on Knorish.
Whenever a creator creates a new website there are different steps to be undertaken to enable SEO. These steps are:
Easy to remember & a unique Domain Name
Ensuring keywords are enabled for all pages.
Contextual value driven content on all pages that increase watch time
Make sure the website is mobile-friendly
Optimize Page URL, Title Tags, Meta Descriptions
Image optimization to ensure fast loading speeds
Heading optimization
Text optimization
Use internal linking
Sitemap submission to Google
Selecting the domain name carefully
Domain names are crucial ranking factors for a web page. The search engine looks at these ranking factors to know more about the given page. A domain name should be
Relevant
Easy for the consumer to remember
Should include the main keyword
Bonus Tip: If you choose a very unique name that has no related words or links on google search, chances are that your site and its pages show up on the first page of Google search.

Research about keyword
It is crucial to work and research about the keywords that are to be used. And it is crucial to devote a significant amount of time to research. Find the perfect keyword which defines what your academy does. There are various tools present online which facilitate and suggest keywords based on traffic and competition. We recommend using Google Keyword Planner.
Structure and plan the website's page content
It means optimizing the page content for a better SEO. it is highly recommended to inculcate the target keyword in the content of a particular page. With this, you enable the crawler to crawl and find the keyword within the content thereby a better SEO.
Make sure the website is mobile-friendly
Knorish creators will be pleased to know that your websites are mobile-friendly. All tenants websites are mobile responsive. With increased traffic, it is crucial to have a mobile-friendly website. As more and more people access the internet with their smartphones, the importance of a mobile-friendly website increases exponentially.
Target with a primary keyword for each page
With your primary keyword research, you will have a fair idea about the language to be used when building your website. It is a great practice to use the target keyword or multiple keywords for each page on your website. To avoid any competition among your pages choose a different keyword for each one of them.
Optimize Page URL, Meta Description and Title Tags
It is crucial to optimize and customize each page on your website. To do so, each page has to be customized for URL, Meta Description and the Title Tags of each page.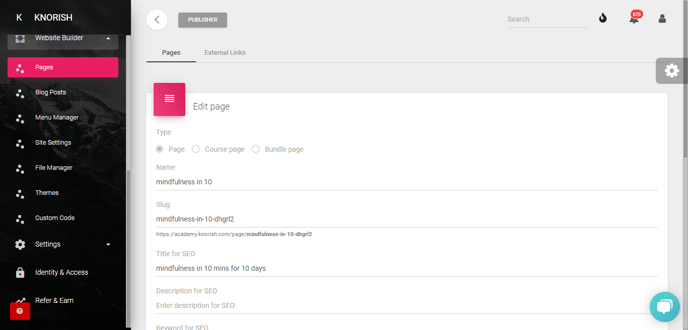 For that, access the 'Pages' section under the website builder, and then click on edit icon to access the edit mode as shown above. This page consists of all the requirements for enabling SEO on your website. As the image below shows, the space to alter URL, add Meta Description, alter the title and add the targeted keyword. After including these SEO changes scroll down and click on save to make these changes permanent.
URL
The URL should be as small as possible, easy for the user to remember, have the target keyword while being able to communicate what's on the page.
Meta Description
While meta descriptions don't directly impact SEO rankings, but the description enables a user to read what the page is about and click on the link to read more thereby increasing traffic to your site. If the description consists of keywords that are in sync with what the search was, chances are the user will click on your option.
Title Tags
Google takes a look at the title tags to understand and learn more about a given page. This is another great spot to integrate your target keyword. Since the search results only display 50-60 characters it is advisable to keep the title tag small in length.
Image optimization
It is highly recommended to use small and optimized images when building your website on Knorish. To help the creators to have a fast loading website, the image size for each is limited to 1 MB. This will help in faster load times which in itself is a ranking criteria for SEO.
Headings and text optimization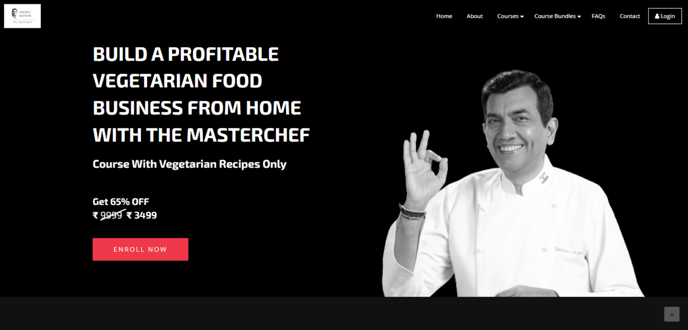 (Image for reference purpose only. Source: Sanjeev Kapoor Academy)
Headings and text are a great way to include keywords. These give more relevance and meaning to the context of the content and helps search engines better understand what your page is about.
To do this on Knorish, go to your web page in edit mode.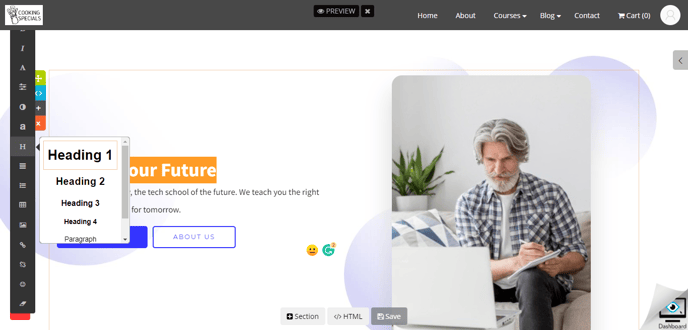 Select the heading or the text which needs to be optimized. This will bring in the toolbar to the left as shown in the image above.
This will bring in all the categories into which the text can be optimized. We recommend using the 'Paragraph' option in the list if the information is a normal text. While if you are optimizing the heading, select one of the heading options accordingly.

The Top Section (Banner) must have the heading in H1 format. All other headings can be H2 or others as the need be. This is a key step for SEO.
After these changes, make sure to save them by clicking on the 'Save' button.
Use internal linking
Internal linking gives a signal to Google what your page is all about. This can be shown with the help of anchor text. Anchor texts are the ones that are hyperlinked. To hyperlink a text on Knorish, go to your page while being in the edit mode.

Here select the anchor text which will bring in the toolbar. In the given toolbar click on the 'Link' button as shown in the image above. This will bring in a popup to your screen. Click on 'select the link type' to open a drop-down list to choose from. With this list you can select the page this button will be linked to. This list includes
A specific page
Checkout page
Account page
Click on the one which you wish the button to be linked to and click 'OK. Further, save these changes done to your web page while clicking on the 'Save' button.
Sitemap submission
Before your website appears on the search page, Google has to crawl the website. It is quite usual for Google crawlers to crawl a website even if the site map is not submitted. But you can speed up this process by submitting the sitemap beforehand.
To find your sitemap on Knorish, all you need to do is enter the URL for your site and add /sitemap.xml. For instance, if your site URL is www.yourwebsite.com then the sitemap link would be http://yourwebsite.com/sitemap.xml



Plan SEO for future
It is crucial to understand that SEO is a long term process. It is not something that is done and no need to look at in future. With new sites being created daily it is crucial to stay ahead of the competition with regular SEO practices. We highly recommend inculcating SEO in your long term strategy to stay in the search results. Include all the steps mentioned above regularly to improve your SEO ratings.
Creators can even connect Google Analytics with their account on Knorish to view site performance. To know more about this read our FAQ on Integrating Google Analytics. With all of these steps, you can enable SEO on the Knorish platform.